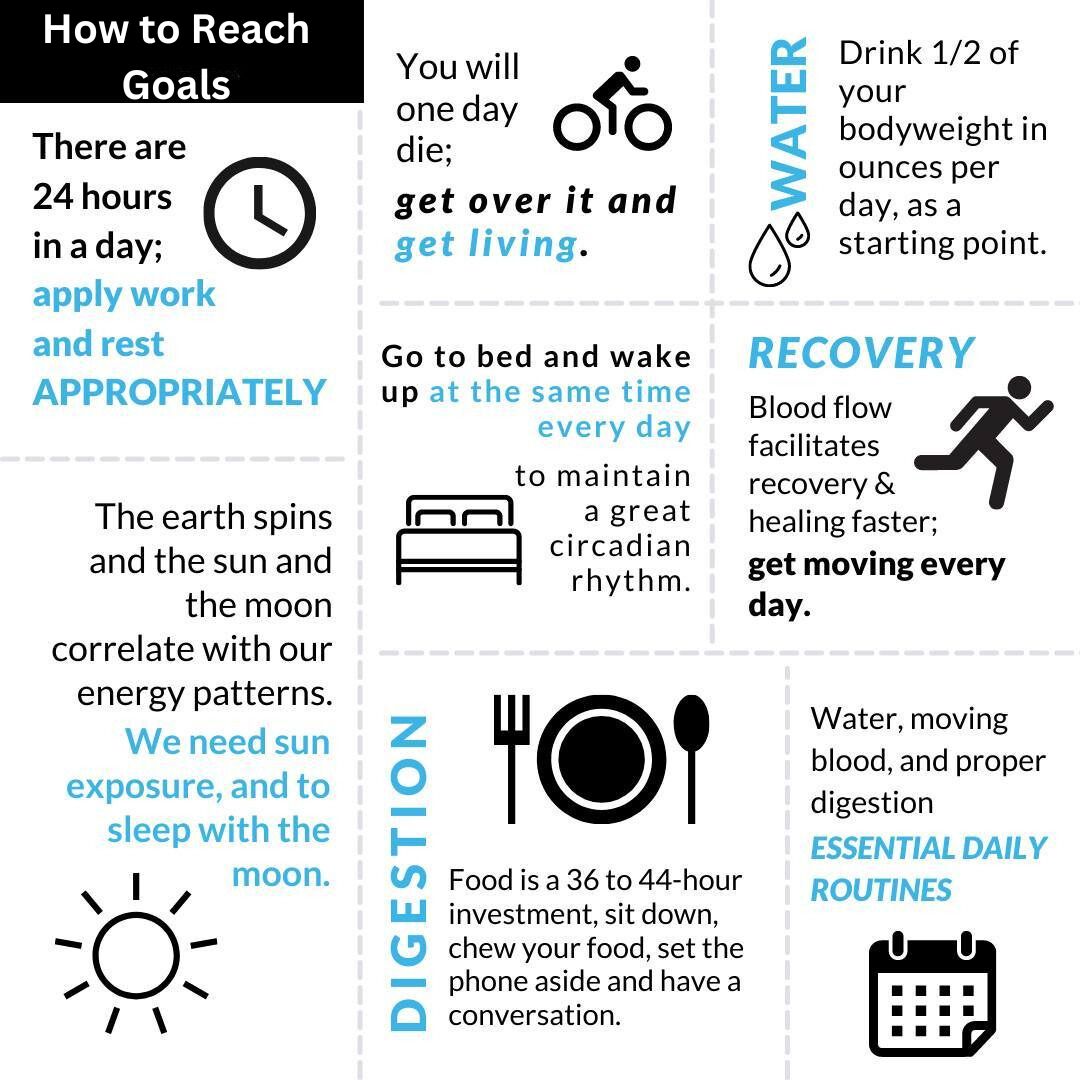 Discover the pathway to your healthiest, happiest self with our Basic Lifestyle Guidelines (BLGs). Whether you're striving for a radiant, healthy life or gearing up for competitive athleticism, your journey starts here. Join 4Balance Fitness and revolutionize the way you approach overall wellness!
Why BLGs Matter: At 4Balance Fitness, we recognize that different fitness goals require distinct lifestyle approaches. That's why we've crafted the BLGs, a holistic foundation focusing on contributors to overall health. Dive into daily hydration, food and sleep hygiene, activity, self-reflection, and stress management to unlock your body's full potential.
Basic Lifestyle Guidelines:
Time Management: There are 24 hours in a day; optimize work and rest for peak performance.
Natural Rhythms: Align with the sun and moon's energy patterns for a harmonious lifestyle.
Embrace Life: Acknowledge mortality; live fully and with purpose.
Essential Routines: Prioritize water intake, blood circulation, and proper digestion daily.
Hydration Habit: Start with drinking half your body weight in ounces of water each day.
Recovery Rituals: Activate blood flow for enhanced recovery and healing; move daily.
Sleep Consistency: Maintain a regular sleep schedule for a healthy circadian rhythm.
Digestive Delight: Treat food as a 36-44-hour investment; savor, chew, and enjoy meals without distractions.
Why Basics Matter: In our fast-paced society, it's easy to overlook the essentials. Rhythm, movement, nourishment—the basics your body craves for long-term health and fitness. Don't underestimate their power in achieving the results you desire.
Ready for a Transformation? Join Our Personal Training Onboarding for ONLY $63 per Week! Ready to take your fitness journey to the next level? Join our exclusive Personal Training Onboarding at an unbeatable rate of just $63 per week! Seize this opportunity to redefine your health and fitness with the guidance of our expert trainers.
Sign up today and embark on a journey to a healthier, happier you!