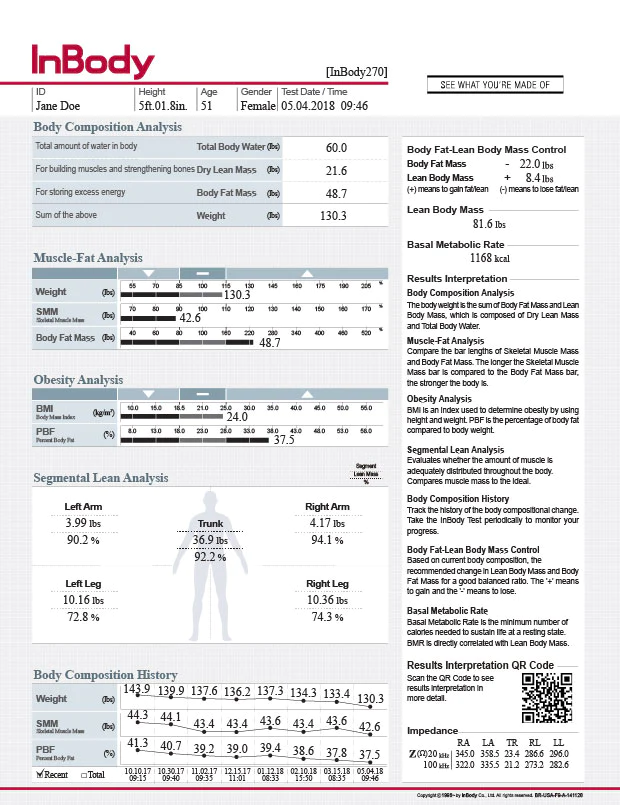 Unlocking the Power of Body Composition Analysis
At 4Balance Fitness, we've always believed that understanding your health means looking beyond the number on a traditional bathroom scale. While stepping onto that scale can be a daily routine for many, it often leaves us in the dark about our true health status.
The Traditional Scale: A Weighty Issue
Let's be honest; traditional scales don't offer much in terms of insights. They provide a single number – your total body weight – and that's it. This number doesn't tell you what your body is composed of, such as muscle mass, water, body fat, or even dry mass (protein and minerals). So, while we won't say we hate scales, we do have some strong feelings about their limitations.
In fact, we encourage you to take your scale outside and relieve some stress with a hammer or sledgehammer – trust us, it's liberating!
The Revolutionary InBody 270: Your Window into True Health
At 4Balance Fitness, we've introduced the InBody 270, a cutting-edge technology that empowers you to take a closer, more accurate look at your body composition. Unlike traditional scales, this innovative tool breaks down your bodyweight into three critical components: Total Water, Total Body Fat, and Dry Lean Mass (which includes protein and minerals).
The impact of these insights is profound. It provides a significant confidence boost to our members and guests, equipping them with an individualized plan to achieve their desired results.
Deeper Insights for a Healthier You
The InBody 270 offers a comprehensive analysis that's light-years ahead of a simple bodyweight figure. It breaks down your weight into three key categories:
Total Water: Understanding your body's hydration level.
Total Body Fat: An essential metric for your overall health.
Dry Lean Mass: Comprising protein and minerals, this component contributes to your overall wellbeing.
With these detailed figures, we calculate your Total Skeletal Muscle Tissue. This calculation forms the basis for your Muscle-to-Fat Analysis, a crucial measure in determining your body's strength and vitality based on the muscle-to-fat ratio.
Beyond BMI: Focusing on Body Fat Percentage
We know that Body Mass Index (BMI) has been a commonly used measure, but it has significant limitations, especially when it comes to assessing overall health. BMI doesn't account for your muscle mass, which means it often misjudges your health status. By contrast, Body Fat Percentage provides a much more accurate picture of your body composition, helping us guide you more effectively.
Tailored Insights for Seniors
Our senior members find the InBody 270 particularly beneficial for monitoring muscle loss, a common aspect of aging. This information empowers you to slow down the rate of muscle loss and maintain functional independence for a longer time.
Individual Metabolism Rate: A Personalized Approach
The InBody scan goes a step further by revealing your Individual Metabolism Rate. This data is invaluable for developing personalized meal plans and prescribing daily calorie needs to help you achieve your goals. Every person's metabolism rate is unique, influenced by age, gender, and body composition. Having this individualized information is truly priceless.
Your Journey Begins with InBody
Recent success stories at 4Balance Fitness tell an inspiring tale: one client reduced their body fat by 14.7 lbs in just one month, while another increased their skeletal muscle tissue by 6.6 lbs and decreased their body fat percentage by 3.2% in just eight weeks. The power of precise body composition information is undeniable.
Ready to embark on your wellness journey with precise insights? Discover the transformative potential of our InBody 270 scan. Don't hesitate to reach out to us by filling out the form on our website to schedule your InBody Scan. We'll answer all your questions and guide you on the preparations necessary for the most accurate results (a few simple steps to follow 24 hours before the scan).
We can't wait for you to be amazed by the information that awaits you.
Ready to experience InBody? Text us now at 864-412-0748 to schedule your body composition scan and appointment. We'll be in touch ASAP.